About Reynella Tennis Club
Reynella tennis club is a family friendly club with a long history located at the Reynella Sports and Social Complex.
Our courts are located at the southern end of the Reynella football oval (opposite Romeo's Foodland), Oval Road, Old Reynella.
We are affiliated (along with the Cricket, Football, Lawn Bowls, Air rifle and Netball clubs) with the Reynella Sports and Social Club, which operates the licensed club at Reynella Oval.
The Club invites all prospective members to visit our facilities and have a go at tennis.
Facilities:
6 Tennis Courts with "Plexipave" surfacing
24/7 access to courts for all members
Clubrooms with canteen facilities
Large lawn and garden areas with access to shade
Bar facilities, in the Reynella Sports and Social Club
Club policies are available on request.
Tennis Australia Accredited Coach
Ray Moyle is an experienced and certified club coach that can cater for juniors to adults, (All ages) at all levels and conducts a popular hotshots program.
I have been a member of the Reynella Tennis Club since I was 8 and I am now in my thirties.
This Club has played such a pivotal role in my life and I did not fully appreciate it until I became a senior player in the club.
I thought it was just fun playing tennis and that was all it was, however I have gained lifelong friends through playing at this club.
I seem to spend more time with my friends at the tennis club than I do actually playing tennis and that's what makes this club so wonderful.
Its more than sporting club, it's a community of people and a family that are friendly and passionate
If you are lucky as me you will get far more out of this Club than just tennis and you won't regret joining this great club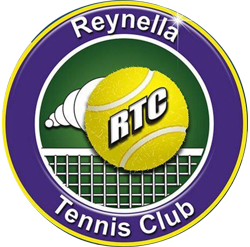 The Reynella Tennis Club was established in 1921. Two courts were originally located at the northern end of Reynella Oval. The club relocated to its present position just after World War 2. The third court was built using entirely local volunteer labour, in the mid 1960's. A further three courts were built in the late 1970's. Originally the club played in the Blackwood Association and after a few years moved to the Southern Tennis Association and is now in Southern Districts Tennis Association.
The club has produced many fine players, with several going on to play in the Adelaide Premier League Competition. Those who have won Southern Tennis Association titles include Barry Meier, Piret Vaughton, Lynnette Whyatt (Green), Kate Whyatt, Tom Dyke, Ray Moyle, David Trott and Craig Smith. Junior Association Champions include Graeme Green, Kate Whyatt, Leah Crawley, Carmel Alcock, Lynnette Green, Kim Aiston, Stephen Upton, Ron Vos, Leon Burkhardt, Ben Neijalke, Radek Kochanowski, Raymond Radice and Dylan Ellis.
Club Patron – Val Green